March 9th, 2012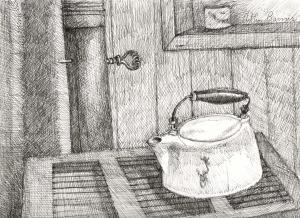 "A man without money is but a vagabond and a rogue," Rembrandt's peers judged as he walked out of bankruptcy court. That was wrong on so many levels. Rembrandt was neither a vagabond nor a rogue. He rarely, if ever left his native Holland. If not a saint, he was certainly an honorable man. A man can be a vagabond without being a rogue. And vice-versa. Being a vagabond is a state of mind not based on monetary status. There are plenty of rich vagabonds and there would be even more vagabonds if more people had money. A person ought to live according to their nature. If a person's nature is that of a vagabond then that is the path they ought to travel. Willie Nelson is a master vagabond. That is his nature. He follows his nature and he is a happy man. If he was a poor man he would probably still be a vagabond. That is his nature.
I recently enjoyed some time on the road myself. I drove down to Virginia with Buster to visit some "old hobo friends." Duffy, my songwriting friend from our old Nashville days was glad to see me. He had written a song entitled "My Old Hobo Friends" years ago. While there I visited my singer friend Chris Woodrow. As soon as I entered his house I was made comfortable by the site of a wood stove with an old kettle on it. My mind went back to happy times at the old house on the rez and I felt at home. I later stood in front of the stove with my sketch pad. I stood there looking down on the scene and sketched it in ink without any preliminary work. The next morning I took pictures of Chris for his next CD cover. One of the songs he is going to record is Duffy's "Old Hobo Friends."


March 9th, 2012
When I was a puppy I heard Johnny Cash singing about …'breathing air that ain't been breathed before." I heard Woody Guthrie singing about following his own footsteps across our diamond deserts. I heard Bob Dylan singing "The highway is for gamblers…better use your sense." I was hooked. I wanted to travel. I wanted to spilt my small hometown in upstate New York and see what was out there. I wanted to respond to that call of the open road.
My first chance at traveling came when I was 16. My friend Johnny was driving his truck down to Florida to visit his mother and he invited me to come along. I jumped at the chance. Johnny was deaf and he went to St. Mary's School for the Deaf in Buffalo during the week. He came home on weekends. I often drove him back to school after the weekend was over. In Buffalo he lived with his friend Jerome's family. Jerome was deaf too and also a good friend of mine. Sharp kid. The three of us hit the road. We took turns driving. We cruised along pretty good until we got to Tennessee. The truck died on the interstate. Jerome and I went walking down the interstate looking for help while Johnny stayed with the truck. We walked and hitchhiked and walked some more. "We aren't going to get a ride," Jerome signed to me. "Why not?" I asked. "Because we are in the south and I'm black….and you're a hippie." Never did get a ride.
We walked until we found an exit that had a garage. The mechanic there towed the truck off to the garage. After he inspected it we were told the motor was shot and it would take a week to replace it. We were stuck. We considered taking a bus the rest of the way. Instead, we pitched in our money and bought an old black Studebaker the mechanic was selling. He had a Georgia license plate laying around that he slapped on it. We fired it up and drove it to Florida without getting caught. I still have the plate.
Now I'm an old dog. I hear Tom House singing "Here and gone…here and gone. That's how it's always been. We walk this earth such a little while…then we're bourn away on the wind." I'm back on the road heading down to Tennessee again. Been well over 50 trips back and forth over the years. As Billy Joe Shaver said, "I got it all down to one moving part… and that moving part is me." I've got a good running van, new tires, my apple laptop, a cell phone, my good dog Buster , CDs and a garbage bag full of dirty clothes. The only thing missing is a co-pilot. Tennessee, here we come.